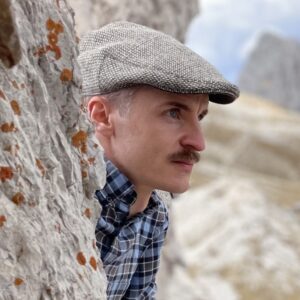 I'm a writer and sociologist. I'm currently a postdoctoral fellow at Yale University. My research focusses on authorship, publishing, and moral discourse in diverse settings of contemporary society. I received  my PhD from University College London in 2021. 
Cultural intermediaries and moral discourse
My postdoctoral project on literary production at Yale University's Center for Cultural Sociology looks at processes of cultural intermediation in contemporary literary production, particularly the work of cultural intermediaries such as editors, critics, or jury board members. Literature is said to be one of the fundamental cultural products shaping moral discourse of Western societies, but knowledge about how it is produced vis-à-vis existing culture structures and notions of morality tends to be scarce. But literature not only influences moral discourse, it is influenced by it just as well. How so, and how the decision-making of agents, editors, and critics reflects this, is the concern of this research. This project is particularly interested in developing civil sphere theory in the context of literary production, in combination with aesthetic theory. Find out more about the research on literature and morality here. This work is funded by the German Research Foundation (DFG) with a two-year postdoctoral grant.
Scholarly communication and the humanities
In my PhD research I looked at how and why scholars in the humanities and the German Geisteswissenschaften communicate the way they do, and how structural issues change this. Several empirical studies were conducted during this project to determine the impact of the Research Excellence Framework in the UK, the Exzellenzinitiative in Germany, or developments of academic governance (internationalisation or drivers of excellence) on authorship and publishing practices. Find out more about the research on scholarly communcation in the humanities here.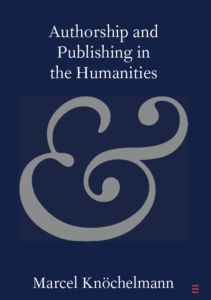 Part of this research is published with Cambridge University Press as a short monograph in Summer 2023: Authorship and Publishing in the Humanities. It is a critique of current authorship and publishing practices that centre on formal authorship instead of on scholarly substance.
Authorship in the Sciences, Editorial Work, and Epistemic Injustices
During a first postdoctoral project at the DZHW Berlin (German Centre for Higher Education Research and Science Studies, between 2021 and 2023), I considered authorship and publishing in scholarly communication beyond the humanities. Research questions concerned how scientific knowledge is produced, and how professional scientific writers contribute to this form of specialised knowledge production. Another project looked at notions of responsibility and ethical conduct in publishing scholarly journals in open environments without professional publishers. This connected to previous work on epistemic injustices in scholarly communication and critical work on the so-called open access transformation. Further publications are currently being processed and will be published soon.
Scholarly interests
Discourse ethics
Ethics of publishing
Issues of participation in literary discourse
Scholarly communication in the humanities
Open access practices and discourses
Social theory (the strong programme in cultural sociology & civil sphere theory)
---
I received my PhD at University College London with the doctoral dissertation: Rationalities of Scholarly Discourse: A Cultural Sociological Analysis of Authorship and Publishing in the Humanities in July 2021.
I worked as a researcher at the DZHW (German Centre for Higher Education Research and Science Studies), Berlin, and tought on the MA in Publishing at UCL, especially by supervising MA dissertations.
My former work was funded and supported by the Arts and Humanities Research Council, UK, through the London Arts and Humanities Partnership, and the German Academic Scholarship Foundation (Studienstiftung des deutschen Volkes).
I'm a member of the German Sociological Association (Deutschen Gesellschaft für Soziologie), the European Sociological Association, and the Civil Sphere Theory Research Network.
Reach out: marcel.knoechelmann[at]yale.edu